Woo! Double woo! We have exciting news – Card Hunter will be officially released on the 12th of September 2013! We used to call this "going gold" in the Jurassic era of video game development. How quaint! In this confusing age of never-ending betas, we thought we would strike a blow for clarity and just declare Card Hunter live.
First of all, thank you so much to 40,000+ folks who participated in the closed Beta. Vicious Thrust is too vicious! The Trogs are too hard! McDonagh, your grammar is atrocious! We heard you. We tracked your data. We argued long and hard about what it all meant. You helped us squash bugs, balance maps and improve the game. Thank you for being part of building this game. We couldn't have done it without you.
Also, a very special extra "thank you" to everyone who purchased pizza during the Beta. We really appreciate the help you gave in funding this game through its development. From now on we'll be removing the special Beta figures from sale, so if you got these you'll always be part of an exclusive club.
So, what does "Live" actually mean?
From Thursday the 12th of September, anyone will be able to register and play Card Hunter at www.cardhunter.com. The game will be officially live! Monsters will be afraid and dungeons will be looted. Gary will be delighted with his new friends. Melvin will be mildly appalled by the influx of new players.
There will be a database reset for all existing Beta accounts. There won't be any more resets after this, so now you can start card hunting for real. It's sad to have to do this and we considered not resetting the accounts but felt that would be unfair given our pre-existing commitment to the next point.
After the reset, any Pizza you purchased during the Beta will be refunded and you can spend it again. Yes, that's right – all purchased pizza will come back into your reset account ready for you to use it again.
If you have an existing Beta account, you can just login and play again as you did in the Beta. Your account name and password will remain unchanged. The game URL will still be at live.cardhunter.com.
We will be taking the server down late on the 10th of September (projected 7pm US EST) to get everything ready for launch day. You will not be able to play Card Hunter until the game comes back online on the 12th of September (US Eastern Standard Time).
Launch Special – Get the Basic Edition, Get Figures Cheap!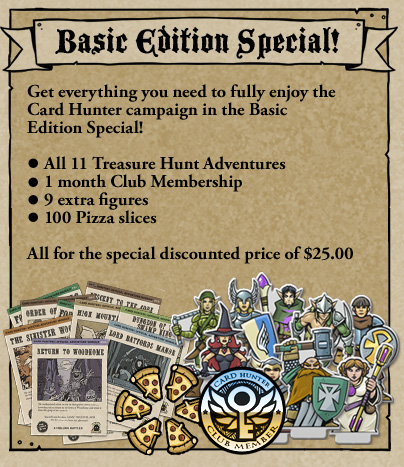 To celebrate the launch of the game, we're running a special promotion. Jump into Card Hunter at launch and get the new Basic Edition! The Basic Edition contains everything you need to get started, including all the single-player content, extra figures, Club membership and more. If you haven't already started playing, the Basic Edition is a great way to get into the game.
In addition, to supplement this, we're lowering the prices on the nine adventurer figures that are included in the Basic Edition. If you've got pizza to spend, you'll be able to pick up any of these figures for less than half price in Cuthbert's Costumes!
Here are some answers to your questions:
Why Did Beta Take So Long?
The biggest reason is that we wanted to stress test our server infrastructure to ensure that it could accommodate lots of players. We very much hope that we now have a stable and scalable game. However, we'd really value your patience as we work through the challenges of growing the game.
Is This the End of Development?
Heck, no. Unless the game tanks  and we all have to go and get real jobs. We very much intend to keep working on the game and will update you with our plans as we go. We have big ideas for improving Card Hunter. In the future will be more cards, more items, more adventures and many more things beyond!
Will There Be Any More Account Resets?
No.
Additional Thanks
Finally, we wanted to say a heartfelt thank you to the ladies and gentlemen of the forums. We can't thank you enough. We're sure we've left many people out here but we want to say a special thank you to the folks who were tireless in their work in making the forums a happy place: SirKnight, Pengw1n, Wozarg, Assussanni, Lance, Jayce, Phaselock, Zalminen, Neofaolcon, Skip_intro, SurgeonFish, Roshirai and MightyMushroom, we salute you!
Finally, please join us in the conversation in the forums at forums.cardhunter.com/ and let us know how we can keep on improving the game. We read them everyday. You can also follow us on Twitter:  @BlueManchuGames and @JoeWMcDonagh. Onward brave Card Hunters!