Archive
November 28th, 2012 at 9:45 pm
This week's video diary gives a quick intro to deck building!
Read more...
November 8th, 2012 at 10:42 pm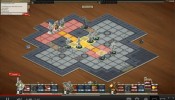 This week I decided to try something new and do a video diary. If you guys like this format, we'll do more of these in the future. This week I show off how line of sight and area effects work using Lightning Bolt, Fireball and Thunderblast:
Read more...