Last week we introduced the basis of Card Hunter deck building – you make a deck by equipping items, each of which puts a suite of cards into your deck. I gave the example of the Puppeteer's Headband which puts three cards into your deck – two copies of Teleport Other and another card called Maze of the Mind. Judging from the comments on the blog and in the forum, some of you thought this was pretty cool and some of you had some reservations about it. Will this system provide enough variety in deck building? Will it force you to equip lots of crappy cards that you don't want? This week, I'll try to address some of these questions and explain what I think is cool about this system.
Let's start by talking about drawback cards, like this one: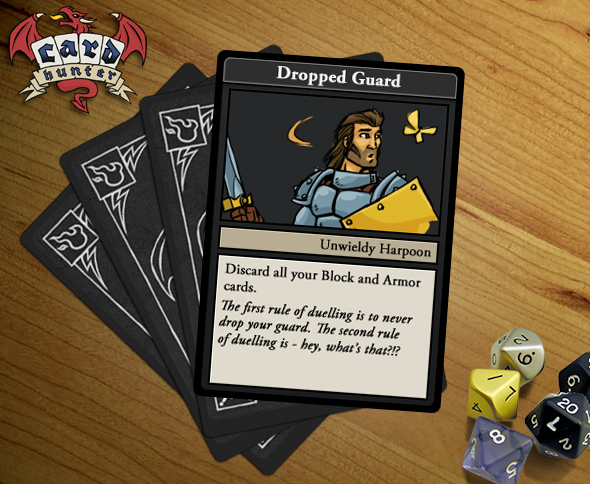 When we previewed this card, you may have wondered why you would ever put it in your deck. After all, it's clearly a pretty bad card that you don't want to see in your hand. Now the reason why it is in your deck at all should be clear – you don't want it to be there but it comes along with the other cards that you get when you equip a particular item, in this case the the Unwieldy Harpoon.
Let's take a look at the full card suite for Unwieldy Harpoon:

You can see that it contains six cards:
a Pinning Spear Toss
three Predictable Stabs
one Dropped Guard
and one Fumble.
When you equip it, you get all of these cards. Of these, two are drawbacks! You can tell they are drawbacks by the black title bar. Similarly, you can tell that Predictable Stab is an average power card from its paper-like title and that Pinning Spear Toss is a very powerful card from its gold title bar. As an aside, it's not the raw stats (5 damage and 5 range) that makes Spear Toss so great – it's got some special text on it that makes it especially useful.
I wanted to reassure you about this week that the drawback cards aren't going to be a huge part of the game – that you won't end up with a hand full of them. Unwieldy Harpoon is a bad example for that argument! Fully one third of its cards are drawbacks. As you can imagine, Fumble ain't a great card any more than Dropped Guard is. But the reality is that this is as bad as it gets. Unwieldy Harpoon is a pretty low level item and comes with one copy of a really powerful card – the Spear Toss – and so it also gets a couple of drawbacks to balance things out. Most weapons don't have any drawbacks – or they just might have one. Two is unusual.
So why do we have these drawback cards at all? Three reasons, the first of which I've just mentioned: they're a way of balancing out the items. We don't have a mana system that makes powerful cards harder to cast and so we have to find another way of balancing things out so you don't just end up with a hand full of the most powerful cards in the game.
Another reason is that they can actually be a skill-testing element when you are putting together your deck. Let's consider Dropped Guard again, which says that you have to discard all your Block and Armor cards. That sounds bad – but what if you are building a very aggressive bezerker-themed deck that doesn't have any Block or Armor cards? Hey, that card isn't sounding quite so bad now. On the other hand, if you're building a heavy duty tanking warrior who wants to stand on the front line blocking and soaking up damage, the Unwieldy Harpoon probably isn't your best choice of weapons. Those are pretty simple examples, but finding ways of integrating these cards into your deck in the least painful way possible is going to be one of the things that distinguishes a good player from an average one.
And the last reason why these drawbacks can be fun is good old Schadenfreude – it's fun when your opponent draws one. And, if you don't take things too seriously, it can be fun when you draw one too – provided you can come back from your momentary lapse of fighting skill!
But equipment suites aren't all about drawbacks. They also serve a number of other purposes in the game. One of the most important is that they throw a new deck building challenge at you. Not only do you now have to evaluate individual cards and how they will work together, but you have to figure out how suites of cards compare to each other. Is it worth taking that drawback card to get that really great card you have your eye on? What's better – a bunch of average power cards or one really good one? And that's before we throw in the next part of the system which is what kinds of slots you have to put these pieces of equipment in.
The point is that constraints often make games just as much as possibilities. In Magic, for example, the mana and colour systems are constraints. There would be more possible decks if you could just throw in whatever colour and mana cost cards you liked – but the game would be weaker because there would be less interesting decisions to make when building your deck. Equipment is a different kind of constraint, but hopefully one that is just as interesting and, importantly, one that challenges you to think about new kinds of problems.
Another thing we like about the equipment card suites is that they are flavourful. A flaming sword doesn't just have to be a weapon which does normal damage plus fire damage, it's a suite of Stab cards with a Fireball thrown in for good measure. And maybe a Parry to round things out. A more defensive weapon might have three Parries and a couple of Stabs. Cards maketh the weapon as well as the man.
And the final thing, which may not initially sound that exciting, but we think is actually pretty important, is that equipping items makes deck building a lot snappier than it might be. Don't forget that in Card Hunter you have to build out three characters, each with their own deck. Putting individual cards for each character into those three decks might sound fun to the more hardcore, but it can get a bit tiresome. Equipping items that drop in suites of cards is a faster and easier to get your head around. Of course, tuning those choices to get them exactly right is still a big challenge for those that are looking for a real edge.
I hope that has gone some way towards explaining why we think this system is a good idea. There's still a lot more to talk about including the slot system, how classes work and what role skills play in this whole deal. But we'll save that for another time.