We ran a poll on Facebook, Twitter and the forum asking what you would like to hear about, and adventuring, character growth and deck building topped the list. Well, you also said you wanted to hear more about the battles, but since we've devoted three diaries to that already, this week we'll discuss characters and decks.
We're working on this right now, which limits what we can say about it. Some stuff we can't talk about because it isn't even designed yet! Other things are designed but will almost certainly change as we implement them. Don't worry though, there is still much we can actually discuss.
In the very first dev diary I said that a goals of Card Hunter was to "create anew the sort of creative tactical decisions that I had when I first started playing collectible card games". One way to do that is to take an existing game and tweak the formula, fixing things and changing things up. For example, you could take a game like Magic and say: "What if we added a board and let you move your pieces around?" or "Let's change the mana system so that you can play any card as a land and never get mana screwed".
If you take these approaches you actually end up with decisions much like what you've seen before, maybe slightly better or with a bit of a twist. We wanted more than that. We wanted to create a new set of decisions and problems that would challenge and surprise people, even people who were used to card games, summoning monsters, and mana cards.
You've already seen with the battle system that Card Hunter is quite different to many other collectible card games. It has pieces, a board, and cards that are actions rather than creatures you summon. Also it doesn't have a mana system regulating card play, so the moment to moment game play decisions and strategies are quite different. We wanted to do something equally different on the deck building side. Here it is:
In Card Hunter each deck is a character, so when you build a character, you build a deck. How do you build a character in an RPG? Mostly you choose that character's gear, and that's the same in Card Hunter. To build a deck you choose what weapons, armor or magic items you want your character to use. The trick is – each item or piece of gear you equip adds a bunch of cards to your deck.
Let's get a little more concrete. Here's some gear:

These are all Arcane Items, for Wizards of course. The item in the middle is one we've seen before – It's the Puppeteer's Headband. If you have a good memory, you might recall it from this card (it's written in the middle of the card on the right hand side):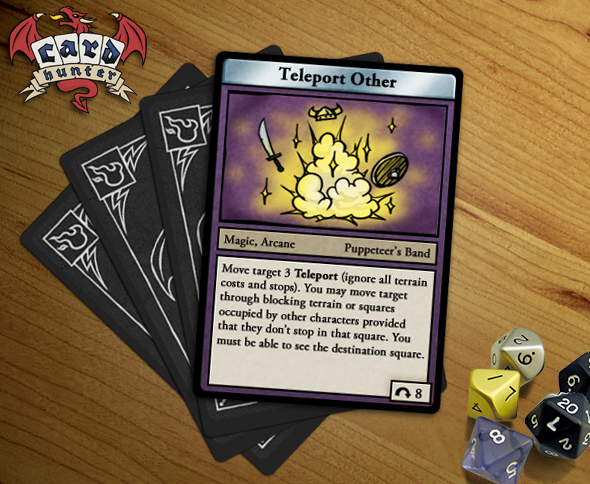 Is the Puppeteer's Headband just the same as the Teleport Other card then? No, it isn't.
When you equip the headband your Wizard adds three cards to their deck: Two copies of Teleport Other and another card called Maze of the Mind. You can't pick and choose which of those cards you want – you get one, you get 'em all. The Puppeteer's Headband gives your character all three cards, no more and no less.
Similarly, a sword carries some attacks and maybe some blocks, a suit of armor gives you protective cards and boots give you cards that pump up your movement. Each type of equipment gives you cards that represent what that item does.

So, you build your character by equipping them with items and, as you put those items onto the character's sheet, their deck grows. Simple, right? It is, but it brings with it a lot of complexity and questions, which we'll have to save for next time.
I'm sure these questions will come up immediately though, so I'll give some quick answers:
Are a character and their deck defined by more than the gear they use? – Yes.
Do different characters equip different types of items? – Yes.
Is the Puppeteer's Headband a fun way to irk your opponent? – Yes.
I hope you enjoyed this quick introduction to deck building and characters. Until next week.