I promised I would explain Skills and Talents. Then I explained Skills but not Talents! Now, I'm here to fix that. In the process I'll show you a lot more about deck building in Card Hunter.
You might also recall that a while back I had a bit of a rant about how hard it is to do both single and multi-player in a single game, even though that is one of the major goals for us in Card Hunter. At the end of that diary I hinted about a system we were working on that accommodated both single and multi-player deck building. Well, that system is the talent system.
In the comment thread to that blog post Umberto Pignatelli wrote:
A suggestion. What about instead dividing the items in broad "levels", let say Weak, Average, Strong
And then have players build their characters with 2 Weak, 2 Average and 2 Strong (on any combination)? You can always substitute a stronger item for a weaker one (so picking up 3 Weak instead than 2 Weak and 2 Average).
A prescient suggestion! Change the names and that's pretty much the talent system. Instead of having traditional RPG style level caps on items in single-player and a separate point system for multi-player, this type of system allows to use the same constraints in both multi and single-player.
Our talents are divided into levels which we just refer to by colour:
Clear
Bronze
Silver
Gold
In single-player, your character gains talents as they level up. At the start of the game, you have no talents, which means that you can only use items that don't have any talent requirements (there are still plenty of these though). As you level up, you'll eventually get your first clear talent. This allows you to use one item that requires a single clear talent to use. You can see where it goes from there.
In balanced multi-player we just pick a standard level and give you the talents that you'd have at that level.
Let's look at an actual example. This is the character sheet for Borgo the Brave, a 30th level dwarven warrior: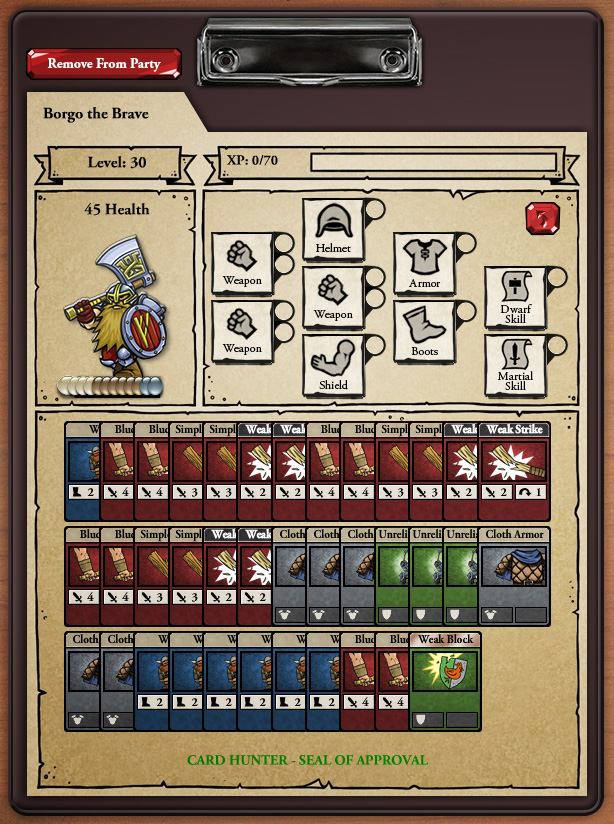 OK, what's going on here? Borgo's talent pool (i.e. all the talents his available to spend) is directly below his portrait. You can see that he has four clear, six bronze and three silver talents, each represented by a coloured glass bead.
Borgo isn't currently carrying any items so all his item slots are empty. You can see he has the following open:
Three weapons.
One heavy armor.
A helmet.
A shield.
Boots.
A dwarf skill.
A martial skill.
Because those slots are unfilled, his deck is full of pretty rubbish cards like Walk and Weak Strike. In the deck builder, if you mouse over a slot, it shows you which cards are put into your deck from it. For example, if you mouse over the Helmet slot you see the default "Cloth Cap".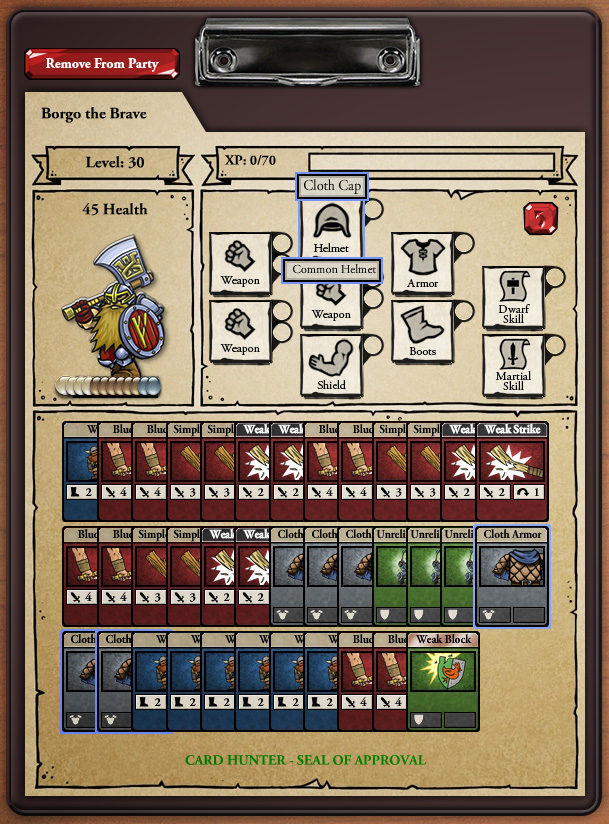 From that default item you get three Cloth Armor cards. Woopee!
Let's look at the process of putting a better item into that slot. For example, something like this: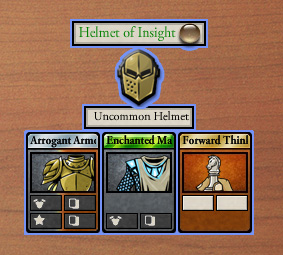 That's more like it. The Helmet of Insight is a pretty powerful item requiring a bronze talent which you can see directly next to its name. Let's see what it looks like when we equip that item: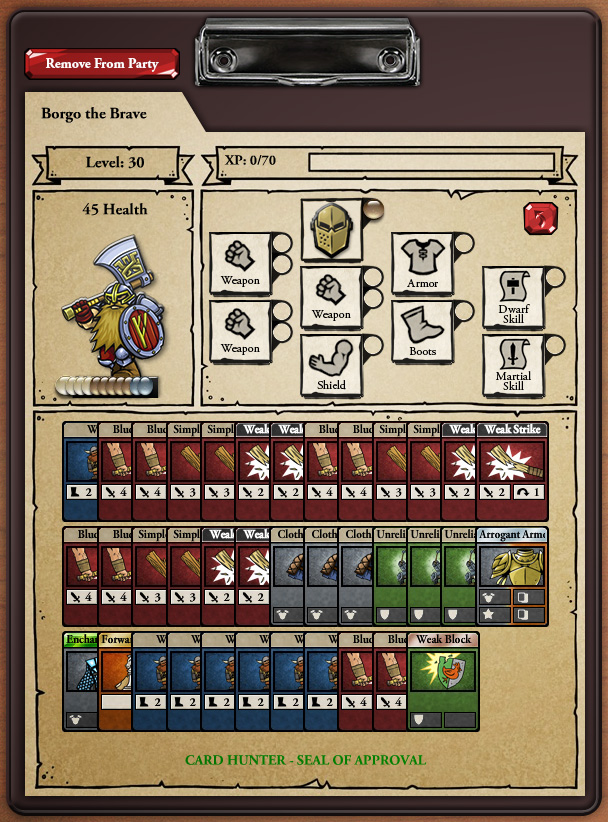 Note a couple of things here. Firstly, one bronze talent has moved from our talent pool to the little slot next to the helmet, showing it is being used to equip that item. Secondly, we now have replaced those Cloth Armor cards with Arrogant Armor, Enchanted Mail and Forward Thinking in our deck giving us a great deal more protection (and power).
Let's see what Borgo looks like when he is fully kitted out: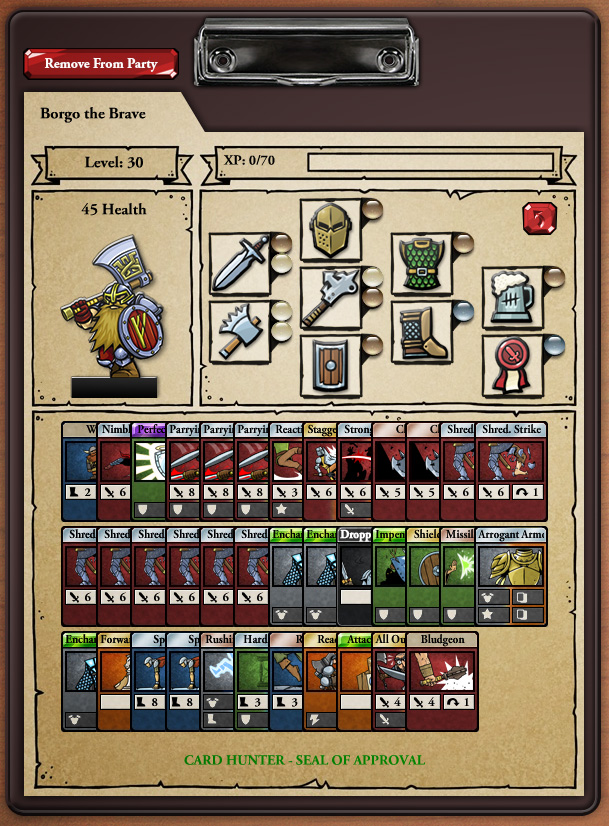 Our talent pool is now empty and all those little beads are being used to equip various items. Our deck is full of powerful cards and we're ready to adventure!
So, that's the talent system (and a quick look at deck building). What took us so long to implement this system, as opposed to the level cap and skill point system I talked about before? Well, it required a fair amount of thinking and experimentation to settle on the talent bead metaphor. It was important to us that the UI communicate what was going on in a simple and intuitive way and we think we've finally cracked that nut. When you equip an item the little beads fly around and rearrange themselves as necessary. It's very clear when you have enough and when you don't.
The other thing we had to figure out was how to handle weapons and other items that require two beads. Weapons put six cards into your deck, as opposed to the three that come from other types of items so they generally require two talents to equip instead of one. The bead metaphor provided a simple way of showing that too.
So, we're pretty happy with this system. Let us know what you think!