Last week I wrote about attachments: basically buffs and debuffs for characters. This week I'm going to talk about an extension of that system that lets you change the board itself.
Terrain modification is pretty key to any fantasy tactics game. Where would we be without a wall of fire or a pool of bubbling acid? Card Hunter handles this kind of stuff using the same attachment system we use for character status effects, only instead of attaching a card to a character, you attach it to a square on the board.
So, let's say you want to create a blessed square: a place for your weary warrior to hang out and recover health and cards. First, of course, you need to have a card that does this in your hand. A card like this: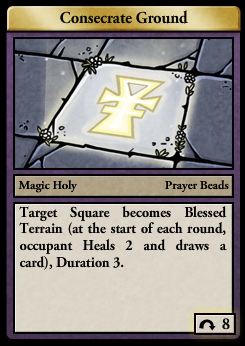 When you play that card, you target a square within range (8). The card goes from your hand and attaches to that square. From now on, anyone standing in that square at the start of a round gets the effects described on the card applied to them: in this case, healing and card drawing. Nice!
There was some discussion after last week's post about how we show cards attached to characters (as tiny little cards stuck to their figure). Some of you wanted to know why we weren't using some sort of actual graphical status effect on the figures. Well, you'll be happy to know that we do use a graphical rendition of terrain attachments. For example, here's what a lava pool looks like: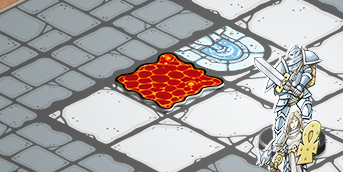 Pretty cool, huh? So, how do you tell what card caused that lava pool and what it's effects are? You mouse over the terrain overlay and the card pops up to tell you what it's all about. How can we get away with this for terrain when we couldn't for character buffs? Well, we only allow one terrain attachment on any one square and we have a lot less total types of terrain attachments in the game. It makes sense, right? You can't really have a lava pool on top of an acid pool on top of mud but you can be stunned, confused and enraged at the same time.
So, let's look at a destructive terrain type. Acid Pool is a pretty nasty card: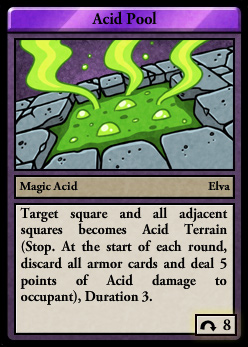 There are a couple of things to note about this card. For one, it's a Burst card, which means that it affects the target square and all adjacent squares, for a total of nine – like this: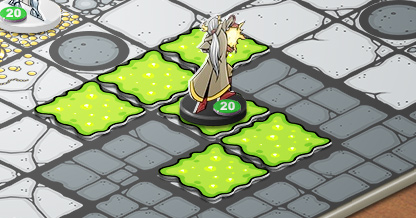 Another thing to note is the Stop keyword. This works exactly like having to halt when you move next to an enemy – any move that takes you onto the acid has to stop. That means that you can't just skip through the acid without suffering the consequences. Of course, if you have extra move cards in hand, you can play them to keep moving in your next turn. Now, the damaging acid effects don't take place until the start of the next ROUND, so it's a good idea to try to cast the acid near the end of the round, once your opponent has blown all their move cards.
The final thing I want to comment on is the fact that the acid creates up to nine squares of terrain attachments. How can one card be attached to all nine squares? The answers is, that it isn't. Instead, when the card needs to attach to an extra square, we create a temporary copy of it. That copy behaves identically to the original except that when it would be discarded, or returned to your hand, it is instead destroyed.
And that's the terrain game – a very important part of Card Hunter.